K10 Portable Multi-function lighting system
The only portable rechargeable work light on the market which can optimally illuminate all of your remote work tasks in one single and easy to carry unit.
WHAT IS UNIQUE ABOUT THE K10?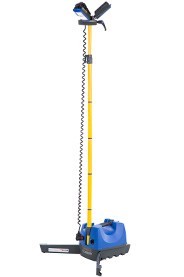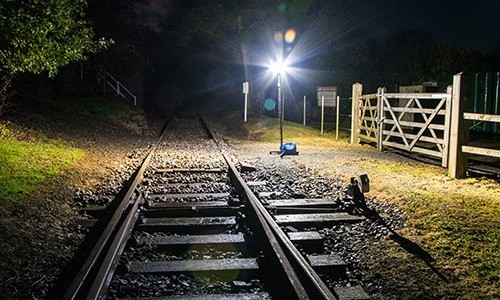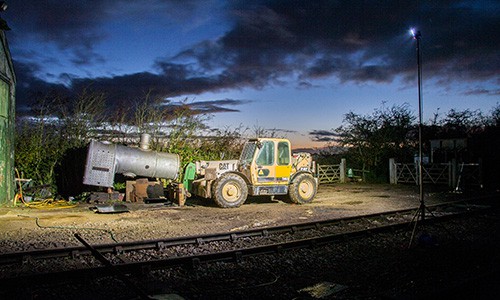 K10 360 Degree area illumination
The K10 headlets can be positioned to give full 360 degree illumination of an area at either a 1.8M height with the integrated tripod or 4.5M height using the additional tripod and extension lead.
The positioning of the headlets with either a wide flood beam or a focused spot beam ensures that the optimum light for the job in hand can be selected.
K10 180 degree directional floodlight
The K10 headlets can be positioned to direct all the high power LED light in a single direction as either a wide flood light or focused spot beam.
This setting could be optimal when working at the side of a rail track for example or working on a specific stationary task.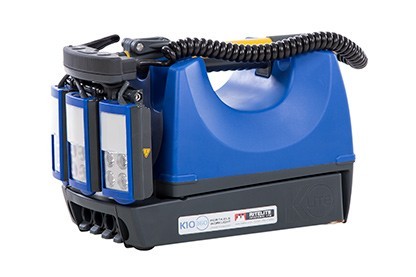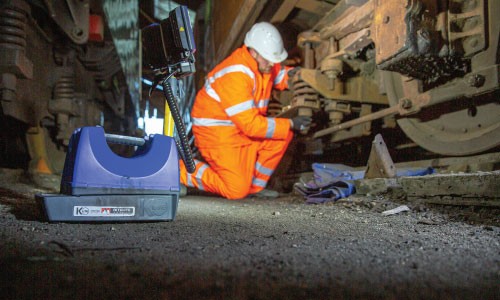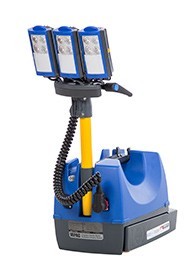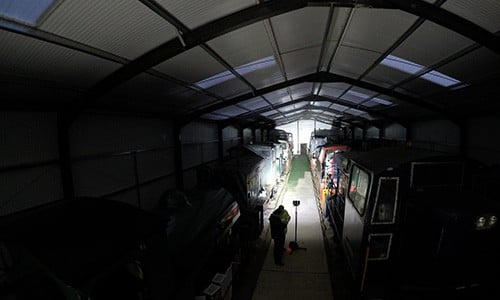 K10 inspection light
The K10's flexibility extends with it being a lightweight high power solution for inspection or investigation situations. The ability to focus the light in a spot beam ensures that the light can reach further to identify any issues over a long distance.
K10 worklight for an enclosed environment.
The K10's multi functionality means that it is not only a great site light but also perfect for use in an enclosed environment for example by an electrician working in a power cut situation or a construction worker inside a building.
TECHNICAL SPECIFICATIONS OF THE K10
Unique Features of the K10
Power Functions
Light output can be dimmed from 8% to 150% and regulated as needed. Boost function to increase light output to 150% for detailed tasks where as much light as possible is required
Flood and Spot lensing
The K10 is fitted with Ritelite's unique diffuser to enable users to switch between a wide flood beam or a focused spot beam as required or even a combination of both. Each headlet can be switched between the different beam angles to enable the user to create their optimum light effect for the application and maximum flexibility.
Integrated tripod
As with the K9 Worklight, the K10 comes with an integrated, quickly deployable tripod to allow the light head to be raised up to 1.8M high. This compact tripod solution ensures the K10 can be used in a variety of different applications without the need for additional equipment. The K10 also has in built stabiliser legs to give enhanced stability on uneven surfaces.
Multi-charging options
The K10 charges from 12V, 24V & 240V supplies making it flexible around the customer's requirement. All units have battery monitoring software to monitor battery and charging status and battery levels are clearly indicated on the K10 light to indicate duration left before re-charge is required.
Light output up to 12,000 lumens
Colour temperature 6500 Kelvin
15 brightness levels
Protection class: IP54
Stowed dimensions (L) 400mm x (W) 215mm x (H) 255mm
Height with integral tripod: 1.8m
Height with additional tripod: 4.5m
| | | | |
| --- | --- | --- | --- |
| Battery Type | SLA | Lithium | Dual Lithium |
| Product Code | SLK10LED | SLK10LED/L2 | SLK10LED/L2X2 |
| Duration at 100% | 3 hours | 3 hours 45 mins | 8 hours |
| Weight (including poles) | 12.65Kg | 7.75Kg | 9.3Kg |
Unique Features of the K9
Spare Interlock Integral Extension Pole K10-30/POLE
Quick lock non-conductive fibreglass extension pole sections. Allows K10 portable worklight to be extended from a torch/worklight into a 1.8m area floodlight.
Flood and Spot lensing
Light up a larger area, achieve maximum uniformity and full 360 degree light effect. Shoulder strap included. Total weight: 4.4kg. Total footprint at extended height: 1.52m (legs at max spread).
Integrated tripod
The 3m extension lead enables the K10 LED Head to be fitted to the 4.5m tripod.
Multi-charging options
The 4.5m tripod is also available with an adjustable leg for use in multiple locations and terrains.