WHY IS THE K8 SO POPULAR AS A HANDHELD PORTABLE WORKLIGHT?
THE K8 WORKLIGHT FOR WORK AND INDUSTRIAL APPLICATIONS
A Portable Worklight that gives ultimate power, control and performance
A Torch and Worklight in one! The K8 LED is a versatile and portable LED torch / worklight system designed for patrol, inspection and emergency work situations. This product design represents the latest technology in LED portable lighting and is designed to be virtually maintenance free and robust enough to deal with the rigours of a harsh work environment.
The K8 LED is designed so that it can be run and charged at the same time should this be necessary, the on board charger provides enough power to charge as well as maintain power to the light at the same time.
The head can then be turned in either direction and the angle can adjusted as required.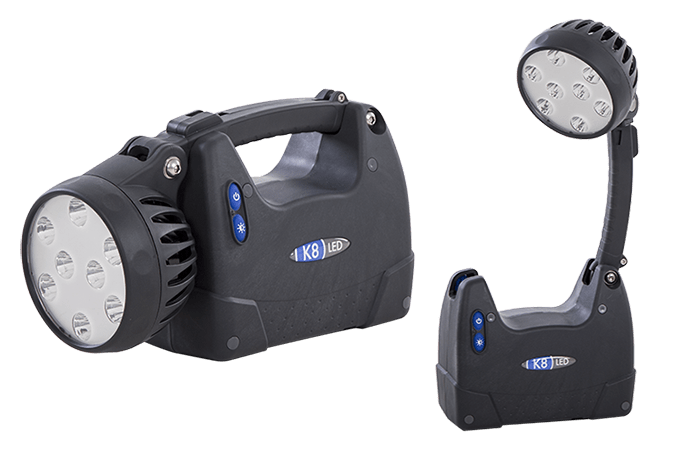 K8 LED Light Modes
The K8 LED can be set up in two basic modes, torch mode and work light mode.
Torch mode: allows the user to carry the unit with the extension arm and head folded down and locked in position.
Worklight mode: allows the user to site the unit in a suitable position on the ground or on a tripod/ higher surface where the arm can be unlatched and swung up and into position. The light head can then be turned in either direction and the angle can adjusted as required.
K8 LED Light Management
The unit features a rotating vari-focus system to allow a tightly focused spot beam or a diffused flood of light so any working environment can be catered for. Rotate the bezel on the front of the K8 clockwise to gradually diffuse the light and anti clockwise to increase the spot intensity (fig 4). As the diffuser gradually passes over the LEDs you'll notice the projected light pattern change and the intensity of the spot disappear but the intensity of the wide flood increase.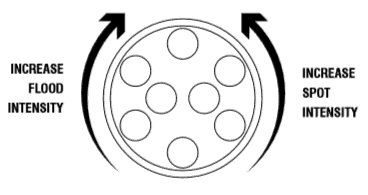 TECHNICAL SPECIFICATIONS OF THE K8 PORTABLE LIGHTING SOLUTION
Brightness Levels / Duration (Subject to ambient temperatures)
K8 MODEL VERSION
HIGH OUTPUT 100%
MEDIUM OUTPUT 66%
LOW OUTPUT 33%
SAFETY SHUTDOWN DURATION
MAX RECHARGE TIME
WEIGHT
K8 Lithium (Standard) L1
Duration 7 hrs
Lumens: 3000lm
Duration 10 hrs 30 mins
Lumens: 2000lm
Duration 21 hrs
Lumens: 1000lm
45 mins 100-66%
4 hrs 30 mins
2.7kg
K8 Lithium (Standard) L2
Duration 13 hrs
Lumens: 3000lm
Duration 19 hrs 30 mins
Lumens: 2000lm
Duration 39 hrs
Lumens: 1000lm
60 mins 100-66%
7 hrs 45 mins
3.25kg
K8 Lithium (High Power) L1
Duration 4 hrs 20 mins
Lumens: 5,500lm
Duration 6 hrs 30 mins
Lumens: 3,800lm
Duration 14 hrs
Lumens: 2,100lm
45 mins 100-66%
4 hrs 30 mins
2.7kg
K8 Lithium (High Power) L2
Duration 7 hrs
Lumens: 5,000lm
Duration 11 hrs
Lumens: 3,850lm
Duration 24 hrs
Lumens: 2,100lm
45 mins 100-66%
4 hrs 30 mins
3.25kg
Additional height (Product Code SLK8LED/TRP)
This can be achieved using the available tripod system with adaptor and raises the height of the K8 up to approximately 2.5 metres making a very versatile area flood light system.
Mains Adaptor (Product Code SLK8LED/MC) Supalite K8 LED Mains Adaptor 100-240V AC allows the unit to be recharged from a mains supply opposed to just a vehicle supply.
Docking charge rack (Product Code SLK8LED/VC) Additional docking charge racks are available so you have the versatility of one in a vehicle and one in the work place, for example when connecting to the mains adaptor – SLK8LED/MC.
Remote Control (Product codes SLK8LED/HDR and needs SLK8LED/HND)
The optional remote control system allows complete control of brightness, modes and battery status allowing the unit to be placed out of reach yet with full control at your fingertips. In addition any number of extra K8 LED units can be automatically switched on and controlled by the one remote through the mesh networking technology employed. One button press can switch on over a hundred units instantly, each unit allows the signal to be rebroadcast so infinite distances and areas can be covered.
Wireless Emergency System (Product Codes SLK8LED/AMF and needs SLK8LED/HDR)
Using the same technology as the remote control this simple "plug in the wall" (or any 110V to 240V AC generator power source) will monitor the power then automatically broadcast a signal to all K8 LED's to switch them on in a mains failure situation. This simple but effective solution makes a very versatile, wireless portable emergency lighting system, adding new levels of safety and convenience to the work environment.