Ritelite a récemment travaillé en étroite collaboration avec Boels Rental, tant dans les dépôts existants que dans les nouveaux dépôts prévus, afin de s'assurer que l'éclairage installé est sûr, fonctionnel et efficace.
L'un des projets les plus récents a porté sur un nouveau dépôt de Boels Rental à Newcastle. À l'aide des plans du site, l'équipe a pu générer des tracés d'éclairage et recommander une solution d'éclairage pour le nouveau dépôt.
Les produits installés étaient les nouveaux luminaires linéaires 150W LED Bay de Ritelite, équipés de capteurs micro-ondes. Les luminaires répondaient aux spécifications requises par le client et avaient été installés dans différents dépôts auparavant avec de bons retours et de bonnes performances.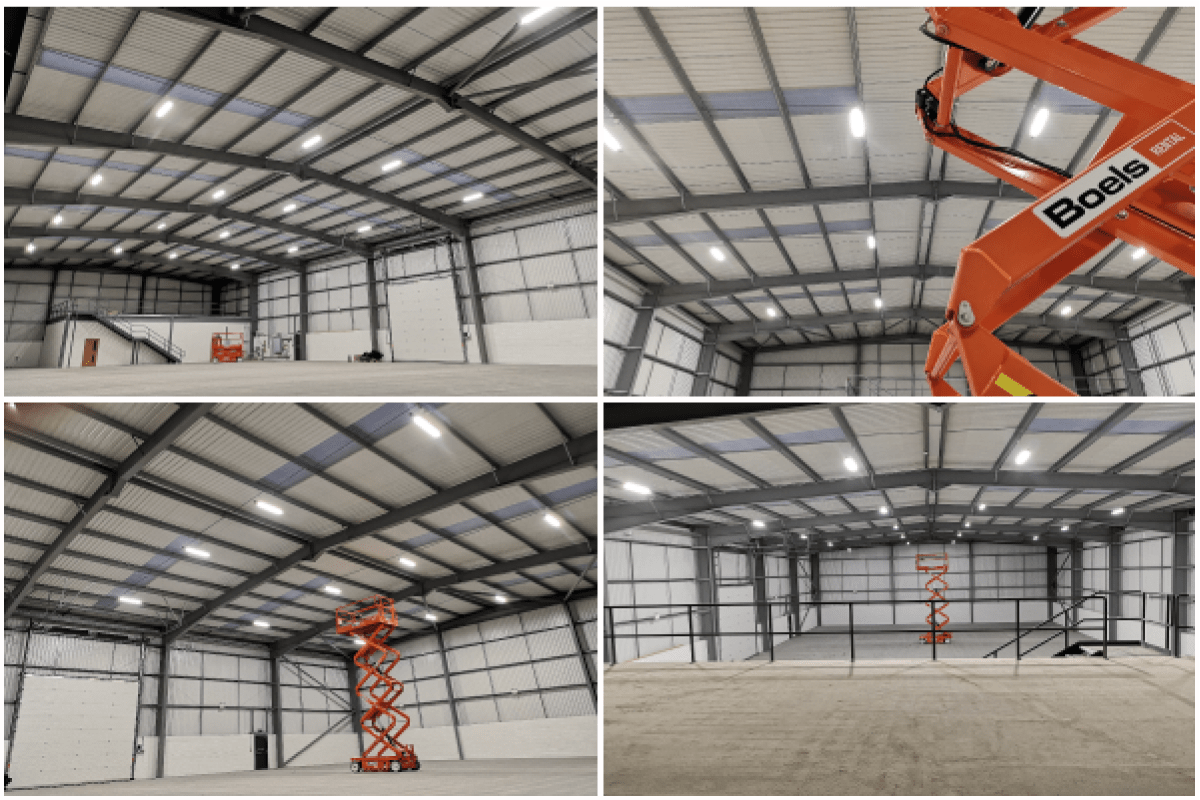 « I have been working with Ashley Newton at Ritelite Systems for over a year now and have always found him to be very responsive to our demands, be it for lighting designs, quotations or specifications of products.
Good lighting is key to ensuring our estates are compliant, energy efficient and safe places for our colleagues to work in. The benefit of working with Ritelite is that once provided with our drawings and requirements they produce all the lighting designs for us, suggest an appropriate product and provide us with a quote to supply the equipment. Buying direct from the manufacturer, where we have a direct single point of contact has proved so much easier than dealing with an Electrical Wholesalers, as we have done previously. 
Ashley has recently helped us with our depot in Newcastle, a site that will enable us to grow our presence in the North East of England and better serve our customers with our ever expanding range of equipment. We decided to make use of 19 of their newest luminaries, the Prolite 150W LED High Bay Linear Light with Microwave Sensors. The fittings arrived well packaged on a pallet and from opening the first unit I was struck by the quality of the fitting, no cheap tinny enclosures, no thin lenses and no exposed dazzling bright LED chips. Installation of the fittings were also a breeze, a pair of sturdy eyes pre-cast into the aluminium heat sink made hanging the fittings easy, as did the pre-wired flex of more than ample length. I've had experience of fittings with Microwave detectors in the past, I've also had the experience of control from the ground, full control of detection range, dimming levels and durations and best of all at what ambient level to turn off altogether.
Are these the best fittings I've used in my 14 years as an Electrician? Undoubtedly!
We look forward to working with Ritelite Systems again as Boels Rental continues its bold expansion plans across the UK. » Adam Goodfellow, Safety & Compliance Manager, Boels Rental https://www.boels.co.uk/about-boels